First Month in San Diego
Now it's time to start with my first blog in English. But first of all I want to make sure, that you know all about my English-blogs. In this  moment I'm in San Diego to study English, and I'm here since 1 month. So as you can see, my English isn't that perfect, I make vocabulary and grammar mistakes. Also my articles in English have a really "easy language", that's why I miss some vocabulary. But enough about my bad English, I hope you can understand me anyway. Let's begin with the topic of this blog – my first month in San Diego.
This blog should be about my stay here, exactly my first month in San Diego. I want to show you, what I have seen and done here. I met new friends here and I also went this month to Los Angeles and Las Vegas. I hope I can show you all this things in one blog, but I think it's not possible. Maybe I will make two or three parts from the first month, just that I can make sure, that I don't forget anything about my experience here.
My flight was on 3 of September in the morning. I started in Zürich (Switzerland), than I landed in London and from London directly to San Diego. It was a long flight, 17 hours, and on the whole flight it was day. Why this? Because from Switzerland till San Diego it's 9 hours difference, so if we here in San Diego have morning, than the people in Switzerland have evening. And this is also the reason why I had a really hard jetlag in the first 3 days. 
It was so hard to say goodbye for 3 month... 
In my first night, directly after my arriving, I was stationed in the old campus, because the new campus only opened on Sunday. So this night I was there (and yes, I couldn't sleep because of the jetlag), and the have taken me in the morning and drive me to the new campus. I became a card for my room, room number 823, and then a short campus tour started. It was interesting, but I never thought that it will be so big. We have a cinema, a pool, a volleyball field, a soccer field, a cafeteria, a trainings room… and ten floors (I live in the 8th floor). As you can see, it is a big building with many students and you can see the building from fare away, because it's the highest building in the whole town. 
After this campus tour I came back and met her – my lovely roommate Amandine from Caribbean! And I'm really happy to have here, because she is the best roommate that you can imagine. We are like sisters, sometimes one heart one soul, but sometimes also like yin and yang. We have two other roommates also, I Chinese and a Japanese girl. But you know, cultures are different and I like them both, but we don't go often together out with them. But, there are other guys that I really like and they are really good friends for me. I think, it takes too long time to describe them all now, the most of them are Swiss German speaking peoples, but in our "group" we also have peoples from Germany, France, Netherlands, and so on – peoples from the whole world!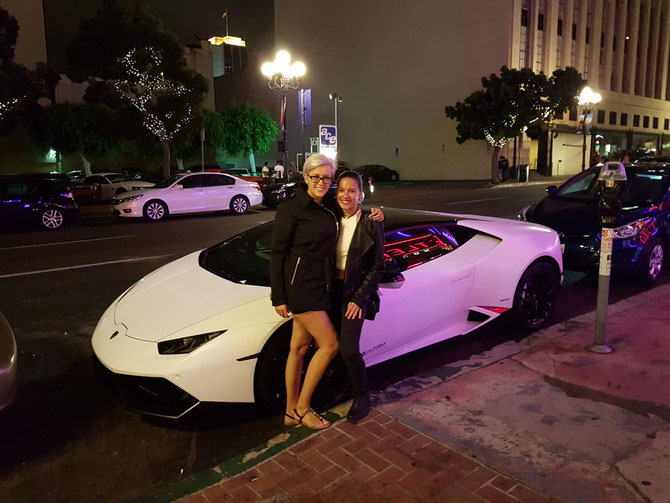 Maybe I have time in this article to describe you one friend more. She is from Japan, exactly from Tokyo. As I said before, Japanese peoples are different than we, but not her! Unfortunately she is already gone home, but we celebrated her last evening on the 16th of September in a nice restaurant. And there you saw again, that she is different than other Japanese girls. Not only because she likes the sun, she is also more open minded than others and she gave us a letter as last gift from her. I will never forget her and I hope I can visit her once in Tokyo!
The restaurant is called Island Prime and if you are in San Diego Point Loma you really should go there. The food is delicious and the location with the skyline is awesome.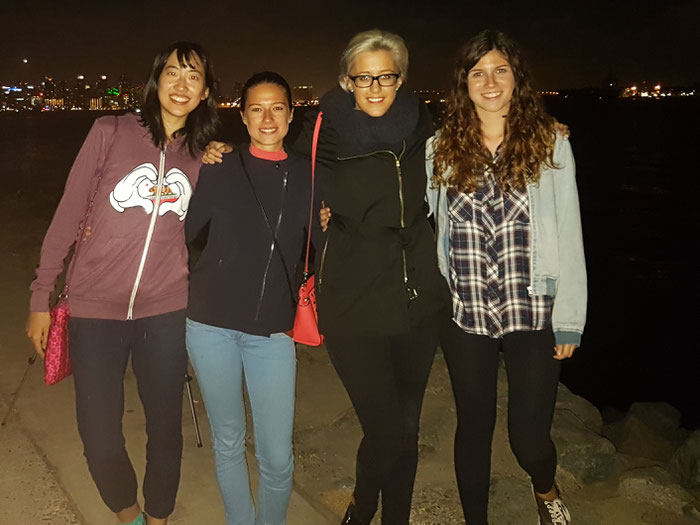 That is Kiri vom Japan, Amadin from Caribbean, me and Jennifer from Switzerland
I know, now I have made a big jump from 2 weeks, but I think I should end this article and try to write from the other experiences in another article. I hope you liked this article, then let me know that I can make sure, that I upload the next article in a few days. 
PS: I don't know why, but this was the first time that I really had time to write and to concentrate me. Normally we have so many things to do and see that I don't have time to write. That's why I want for sure upload more blogs, because you can visit so many things here in San Diego.
---
ähnliche Blogs
---